Search Filters
Quick Filters¶
The quick filters are helpful to quickly filter your reservations so that you can find what you're looking for quickly.

Arrival Date by default the reservations displayed in the grid will only show +-1 year from the current date. Meaning if you have several year of reservations in the system you can easily display them by moving the slider to the desired arrival dates.
Outstanding using this slider you can display the reservations with an amount owing based on the selected values.
Payment slider is used to display only the reservations having the payment amount between selected values.
Reservation total allows you to narrow your search and display only reservations having a reservation total amount listed between the two selected slider values.
Made online tags allows you to quickly show reservations that have been either made online, by a personnel at the front office or both.
Reservation Status tags can be use to additionally filter in or out reservations based on their reservations sates.
Reservation State the states allows you to quickly filter out the reservations that are currently checked in vs the reservations that are not arrived etc...
Client Type will filter out the reservations based on the client types. There are only two types of clients (Seasonal and Transient).

Filter and Search Reset¶
You can easily reset your search and filters by selecting either the reset filter button located in the quick search panel or by accessing the reset filter option from the menu.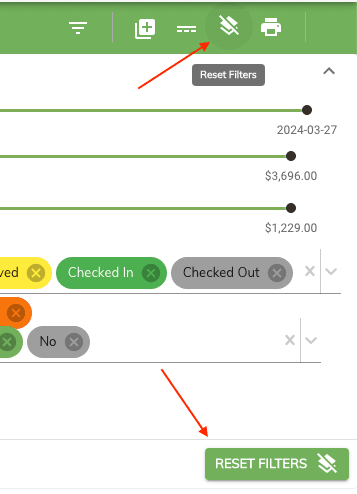 Multiple Column Search¶
Using the search box located above each column, you can filter your reservations based on keyword or range value.

keywords searches are not case sensitive and will match any string values anywhere in the designated columns.
range searches are active for all numerical values such as reservation total, balance owing and payment amount. Searching with the range searches is done by using the greater than > or less than < operator example <100 would show all reservation having a value less than 100 dollars for that given column. Or using >100 would show all reservations having a value greater than 100 dollars for that given column.