Tips to Maximize Your Campground Revenue!¶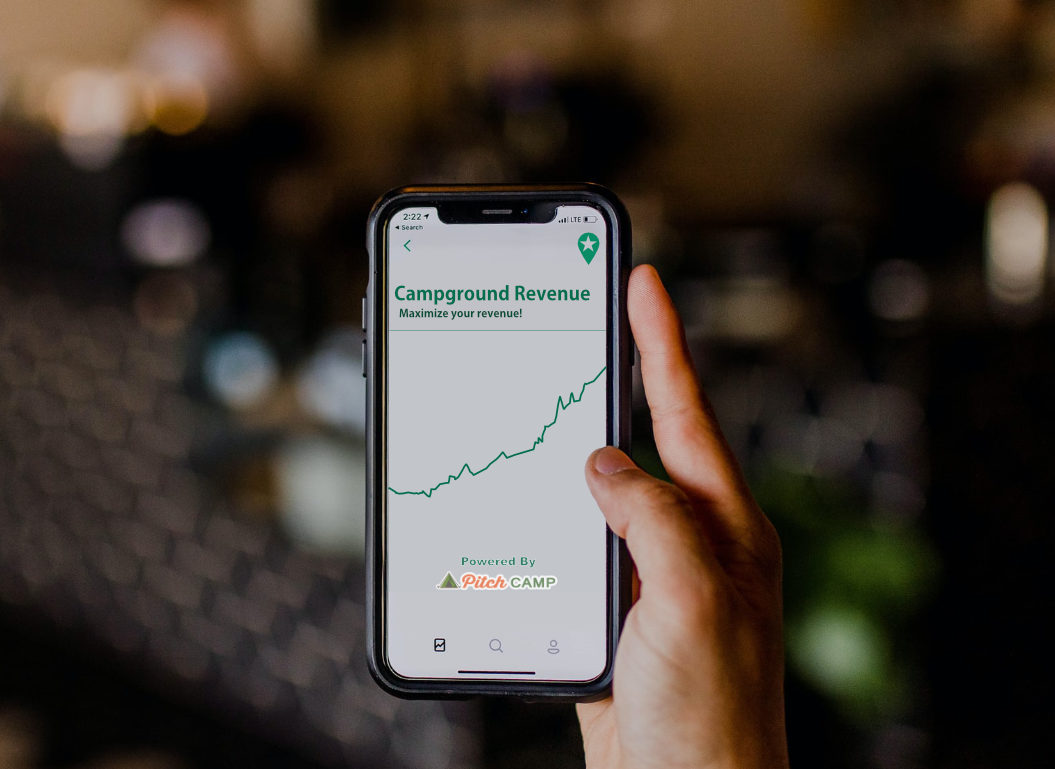 Running a campground can be an incredibly rewarding career, but it is not without its challenges. For many campground owners, there is only a relatively small season to maximize their profit, with the winter months seeing attendance drop significantly.
When it comes to increasing your revenue, many campground owners will immediately think of increasing their prices. Now, while this is certainly an effective solution, it is also a highly risky strategy and can lead to you losing custom as campers are put off by the expensive rates and look to alternative options elsewhere.
Thankfully, there are many additional methods that campground owners can implement to increase their revenue stream while still providing attractive and affordable fees for an overnight pitch.
Top ways to maximize your profit¶
For dedicated campground owners, there are lots of ways to boost your revenue income without risking putting potential customers off with increased prices. In fact, many of the best methods will actually help you offer your campers an even better experience on their trip, boosting their overall satisfaction.
Taken a closer look at some of the best ways to transform your campground.
Go digital!¶
One of the most effective ways to boost your revenue stream, not only through the busy season but all year round, is to go fully digital. By eliminating administration and paper printing, such as regulations, rules, waivers, and other agreement forms, you can save thousands of dollars a year in wasted materials.
Moving everything online not only showcases to your guests that you are a modern campground, but it will also help save you significant amounts of money every year. Here at PitchCamp, we believe that every campground owner deserves to enjoy the benefits of a truly paperless operation. PitchCamp's online booking platform will helps you and your campground to maximize your revenue and stay competitive. With our online booking software, you can automate your customers email, as well as have them digitally sign their registration forms, which will then be automatically saved as an electronic PDF in their file.
Sell advertising space¶
One of the best methods of generating additional income for your campground is to sell advertising space to local businesses. Your business will regularly see hundreds of guests arriving every year, so local organizations will be very interested in trying to secure their custom.
One way to do this digitally is to sell space on your website, but if you provide guests with a campground map, then another popular option is to sell advertising space around the edges of it. Depending on the size of the map that you provide, you could create a dozen or more business card slots around the edge, selling each space to a local business. To reduce the costs even further, you could utilize the services of a local print shop in exchange for an advertising spot or discounted print run.
Upsell your reservations¶
The days of simply selling customers a pitch are long gone, and if you are serious about increasing revenue and maximizing customer experience, then upselling each camper's stay is crucial. Upselling does not always need to be huge items; when you are advertising pitches, consider adding the option for simple things such as high-speed internet access, access to streaming services such as Netflix, and mini-fridges.
These optional extras are a great way for guests to take their stay to the next level for a small additional fee, and for campground owners to boost their profits through low-cost, high-return options.
Add amenities¶
Alongside offering your guests chances to upgrade their stay, investing in amenities for your site is another great way to boost your revenue. Installing a laundry room, or partnering with a local laundry business, is another popular revenue boost and gives your guests the facilities to stay on-site for even longer.
If you operate a large site, then introducing the ability to rent golf carts to help less able guests get around is another way to boost customer satisfaction and increase revenue. Equally, if your site is lucky enough to feature a lake, then consider investing in a range of kayaks and paddle boats that you could rent out to guests to use.
For many campers, the enjoyment of the holiday is the ability to be able to escape the hustle and bustle of modern life, so the idea of having to go to a grocery store can be an inconvenience. Therefore consider opening your own convenience store, selling essential items such as bread, milk, vegetables, fruit, and other refreshments. The convenience of having this on-site often allows you to enjoy significant mark-up compared to major chain stores.
Equally, another great way to enjoy a small additional stream of income is to install an ATM machine on site. By adding a small service fee to every transaction, you could enjoy an additional stream of several hundred dollars a month.
Sell firewood¶
For many campers, building a campfire is one of the most fun parts of getting back to nature. While collecting firewood can be free if your campground is near a wooded area, it is a hassle for many campers, and typically the sticks picked up from the ground do not burn as well, or as long.
That is why offering campers the ability to purchase proper firewood from you is a great way to bolster your revenue. This might seem like a lot of hassle, but it is actually one of the most significant ways to increase your income.
Offer storage¶
When it comes to making money at your campground, it is not always about the guests that are staying overnight. If you have a large excess of land, then offering residents in the local area a secure and safe storage solution for things such as RV's, Trailers, Boats, and Four Wheelers is a great way to make some additional income.
It does not always have to be storage for motor vehicles, though. If you have a large unused field or a barn, then offering that space out to local stables to store horses or provide them with an area to run around can net you significant profit every month.
Whatever it might be used for, utilizing your free space is a great way to boost your revenue without needing to invest in any additional or expensive infrastructure.
Offer entertainment¶
In order to ensure that your campground stands apart from your competitors is crucial. Ensuring that you are providing guests with more unique attractions that your competitors not only helps to attract more customers, but it can increase your revenue stream too.
If you regularly have families staying at your site, then providing a range of kids' activities, such as arcade machines, is a great way for parents to keep their children entertained. This also helps you to increase your profits, and while those quarters might not seem like much on their own, over time, this can prove to be a significant earner.
Of course, your entertainment offering should not just be restricted to children. To truly set your campground apart from your competitors and boost your profits, there are many additional events that you could host. For example, organizing a yearly music festival featuring local artists is a great way to help you sell out your pitches. In addition to that, you can sell day tickets to attract local neighbors and residents to boost your profits even further.
Partner with local experiences¶
Although many people love to get away from the city life, many of your customers will also want to connect with the local area and explore what the region has to offer. Working to build partnerships with your local experiences and tour groups is a great way to ensure guests can enjoy the very best attractions on offer while ensuring you can maximize your profit.
Typically, when you partner with these local attractions, you will be able to receive a commission on each ticket that you sell. There are many different attractions that you could partner with, from tourist attractions to local tour guides and wineries.
Equipment rentals¶
One of the most effective ways for campgrounds to boost their revenue during the camping season is to offer equipment rental. From offering tents and airbeds to sleeping bags and cooking equipment, it is a great way to significantly increase your revenue stream during the year while maximizing overall customer experience.
It does not need to end at camping equipment, though. Some campsites have been offering guests the chance to go 'glamping' by providing luxury tents and RV's. This is a fantastic way to boost your revenue, and some campground owners have even taken to purchasing old trailers and renovating them to either rent out to guests or even sell on for a profit.
Propane refill¶
Many campers will bring their own propane bottles with them in order to be able to barbeque their favorite food or keep their trailers warm. However, for those guests staying for more than a few days, there's a very high chance that they will need to refill those bottles. Therefore, rather than sending them to a nearby retailer by offering them the ability to refill on-site is a great way for you to charge a premium.
Host workshops¶
Increasingly, many campgrounds are providing their guests with the chance to take part in various different lessons and workshops while staying at the campground. These classes can be anything from yoga sessions to learning how to make tie-dye t-shirts. Whatever it might be, working with local partners to be able to offer your guests the chance to experience something new is a fantastic way to boost your profits.
If your ground has a lake, then you could also offer lessons for things such as kayaking and stand up paddleboarding. If your campground is more secluded, then consider hiring a local expert to take guests on a nature walk or nature guide, helping them to connect with the local area while giving you a chance to upsell their experience.
Meal service¶
This requires more investment and time from you, but providing your guests with the chance to enjoy home-cooked meals and a breakfast delivery every day is another great way to boost your sales.
Many campers might not have the right cooking equipment or supplies to cook meals throughout their stay, so by providing them with the chance to have meals and drinks delivered is a great way to improve their experience as well as ensure you can enjoy a mark-up on the overall cost.
Maximize user experience¶
Above all, the extra amenities and benefits that you could offer, one of the most effective ways to maximize your revenue, is to create an experience that guests want to come back to. Repeat customers are the best way to ensure you are constantly enjoying a steady stream of guests throughout the year.
Advertising is an essential part of any business, but trying to attract new customers is far more costly than retaining existing clients. Working to ensure that every guest who visits your campground has the very best experience will increase the chances of them returning, guaranteeing you a steady stream of income throughout the year.
How PitchCamp can help your campground¶
If you are thinking of offering customers the chance to maximize their experience and give them the ultimate online booking experience, then PitchCamp is here to help you make the entire process easier.
PitchCamp online booking software is designed to significantly reduce the time and energy required to effectively manage your campgrounds administration and lower your operational costs. Utilizing a range of automation features, you can move your business fully online, helping to speed the process up and giving you more time to focus on the experience of your customers.
PitchCamp Campground Management System
Make your reservation process simple and speedy for your customers, while helping your campground business to save time and money.